Mistik Lake
by Martha Brooks.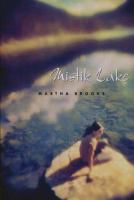 Publishers Weekly :
Starred Review. Brooks's (
True Confessions of a Heartless Girl
) keenly observed novel interweaves the lives of three generations of women overshadowed by secrets. While the narrative focuses on Odella, whose mother leaves the family (and the country) with a lover, then unexpectedly dies, the author also rotates through the perspectives of other characters. It falls to Odella's great-aunt Gloria as much as to Odella, the oldest of three sisters, to give readers a sense of Sally, Odella's guilt-ridden mother. Mistik Lake plays an important role: Sally alone survived a tragic accident on the lake as a teenager, and the small Canadian community, where both Gloria and Sally grew up, serves as the backdrop for the major revelations in the book. Readers may have trouble tracking all the ways various characters connect; the grandfather of Odella's first love, Jimmy, tells her, We are all related, one way or another, if you go far enough back, and it certainly seems to be the case given how the characters' histories intersect. But all of the characters seem distinct and real, thanks to the author's exceptional skill with details (Odella watches Jimmy's grandmother prepare breakfast: She begins to move around her kitchen—silently, like a ship with sails. I can see the ancestors in her face). Everyone suffers, but the momentum remains steady and, in the end, it is the author's ability to convey the characters' love for one another, as complicated as it often is, that floats to the top. Ages 14-up.
(Sept.)
Copyright © Reed Business Information, a division of Reed Elsevier Inc. All rights reserved. Distributed by Syndetic Solutions Inc.
Terms
School Library Journal :
Gr 8 Up—In a prologue, readers learn that in 1981, three teenagers died while joyriding on frozen Mistik Lake in Manitoba. Sally was the sole survivor. The story then alternates between Odella, Sally's oldest daughter, beginning when she is nine; Sally's Aunt Gloria, Odella's beloved great-aunt; and, later, Odella's boyfriend, Jimmy. Summers are spent at Mistik Lake, where Gloria has a cottage that she never uses. There, Odella, a perceptive girl, becomes attuned to her mother's sadness and alcoholism. Sally leaves her husband and daughters for an Icelandic filmmaker when Odella is 15, and the devastated family struggles to function without her. However, they continue to vacation at the lake, where Odella meets Jimmy, leading to a romance that helps sustain her in the aftermath of her mother's sudden death. Much of the mood is pensive as characters suffer but eventually break through. Gloria, whose homosexuality has been kept a secret, eventually brings her partner to meet Sally's girls; and Odella starts to forgive her mother and begin an adult life. Jumps back and forth in time and perspective make reading somewhat bewildering at times, but they do allow more intimate characterization. Smooth writing contributes much to a story that will enable readers to care about Odella's coming of age. Readers seeking a love story situated in family difficulties will find a realistic choice here.—
Suzanne Gordon, Peachtree Ridge High School, Suwanee, GA
Copyright © Reed Business Information, a division of Reed Elsevier Inc. All rights reserved. Distributed by Syndetic Solutions Inc.
Terms