Scams! : ten stories that explore some of the most outrageous swindlers and tricksters of all time
by Andreas Schroeder.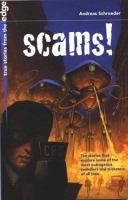 School Library Journal:
Gr 5-8–A fascinating collection of stories about forgers, con artists, and other individuals who duped the public for fame, money, love, or power. The 10 selections include an elaborate counterfeiting scheme by Nazi security officer Bernhard Krueger, who used concentration camp inmates to create millions of flawless British banknotes. In the 1970s, Manuel Elizalde, Jr., "discovered" primitive cavemen on an island in the Philippines who became the focus of a National Geographic documentary and caused excitement among the world's anthropologists. Elizalde's tribe was actually a cleverly staged ruse with local islanders willing to put on a show for journalists in exchange for cigarettes, watches, and Levis. Schroeder's lively narration with undocumented dialogue breathes life into characters whom readers can't help but marvel at for their sheer ingenuity. P. T. Barnum is portrayed as an extraordinary showman and opportunist whose moneymaking schemes included the promotion of a cranky and misbehaved elephant named "Jumbo" as a national media "darling" and an elderly black woman as George Washington's beloved nanny. Schroeder's page-turning stories are suspenseful as each hoaxer comes closer and closer to getting caught. A repeating theme is the gullibility of the public to believe these con artists; an introduction mentions Internet scams. Great read-aloud stories.
–Vicki Reutter, Cazenovia High School, NY
Copyright © Reed Business Information, a division of Reed Elsevier Inc. All rights reserved. Distributed by Syndetic Solutions Inc.
Terms