Hiding Edith : a true story
by by Kathy Kacer.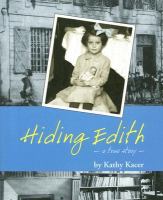 School Library Journal:
Gr 4-6–Edith Schwalb was one of many Jewish children who were hidden by the Jewish Scouts of France in a large house in the village of Moissac. The townspeople helped to protect the children, warning the house mother of Nazi raids, during which time the young scouts disappeared into the hills on camping trips. Schwalb's story is told from the beginning of her family's hardships through the end of the war, and includes the typical privations and separations of Holocaust memoirs. What makes this book unique is the depiction of a special refuge that managed to save every resident child, except one who was removed by her parents. An introduction provides basic World War II history. Black-and-white photographs personalize the story. While the dialogue and emotions are somewhat fictionalized and certain facts have been compressed (as explained in the epilogue), the book seems to be a good reflection of the subject's experiences.
–Heidi Estrin, Feldman Children's Library at Congregation B'nai Israel, Boca Raton, FL
Copyright © Reed Business Information, a division of Reed Elsevier Inc. All rights reserved. Distributed by Syndetic Solutions Inc.
Terms