Featured Book Lists
Chester's back!
by written and illustrated by Mélanie Watt.
Publishers Weekly : Starred Review. In this mischievous follow-up to her comical metafiction, Chester, Watt—who is both character and author&mda
...More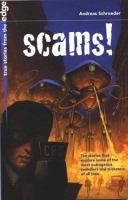 Scams! : ten stories that explore some of the most outrageous swindlers and tricksters of all time
by Andreas Schroeder.
School Library Journal: Gr 5-8–A fascinating collection of stories about forgers, con artists, and other individuals who duped the public for fa
...More